Sailing Adventures in the Arctic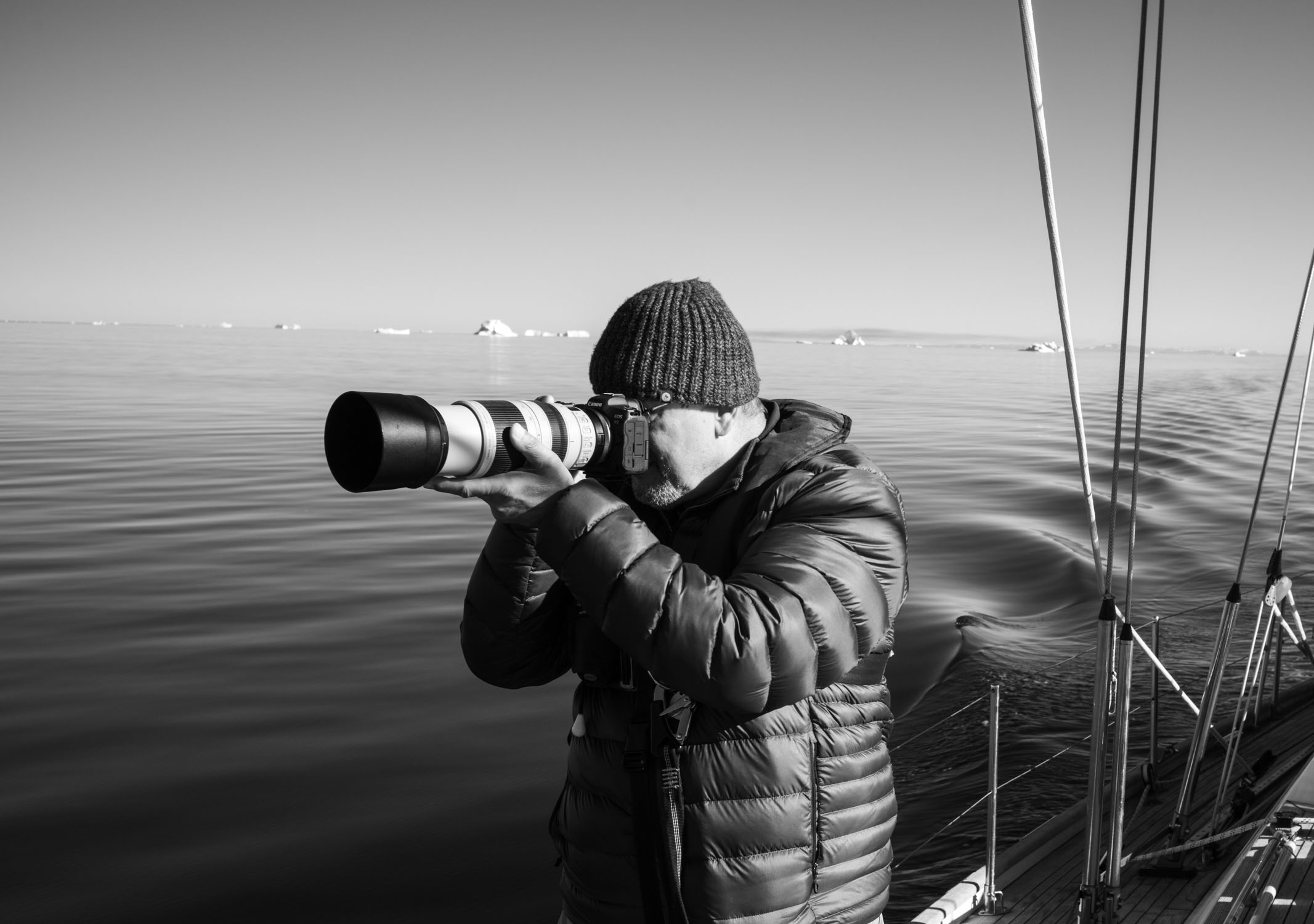 Little did I know when I started researching my desire to travel to Greenland that my path would lead me to VERA and her capable and competent Captain, along with a First Mate and Cook who made every trek an adventure and every meal a culinary delight. From the moment I boarded VERA at Constable Point I felt the excitement of the week ahead, and every day throughout the week onboard built up in visual delight until our last evening at Jyttehavn near Bear Island, where the Aurora Borealis put an exclamation mark on our adventure. Towering fjords, calving glaciers, immense icebergs and snow-capped peaks made the journey a treat for the eyes and perfect subjects for my photos and videos. Thanks to the crew and my boat-mates, who made the trip a lifetime remembrance."
Over 40 years of arctic travel, I have been repeatedly captivated by the landscapes of the arctic. Greenland's Scoresby Sound, the largest fjord in the world, takes this to another level–a land of inexhaustible beauty. One day we watched a polar bear play for hours in our anchorage, on the next we passed tidewater glaciers and navigated a sea of icebergs, and the day following we hiked to hidden mountain lakes along a track no one had traveled. Throughout our stay, mountains met the sea while their unique geology lit up in polychromatic color during the midnight sun. In Scoresby, you enter a world uncharted until the 1932-3 Ingstad expeditions, and still not yet accurately mapped. You want the right boat and experienced guides for this trip. Vera is an amazing boat, completely equipped for safe arctic travel to this remote destination, and its crew are seasoned arctic sailors knowledgeable about Scoresby Sound. Our tidy cabin was arctic luxurious, the food was healthy and wonderful, and the Vera crew shared their deep appreciation of this most special place on earth.
Scoresbysund is a world of adventure that is like nothing else in the world. It creates memories that will never be forgotten. The world will not be the same after navigating around the fjord, it is like being on another planet giving you a new vision of life on Earth.
Sailing in Scoresbysund is truly a breathtaking experience. All the time you are having a "wow" experience. It's is like staying on a postcard. And also, no TV, no email and even no phone calls, truly relaxing all the way. Besides nature, we got lucky and saw two polar bears, some muskoxen, seals and narwhales. What a great bonus. Vera's yacht was great. When you first see it you think it is rather small but indeed it is quite big. At least all 11 people on board were comfortable and after staying together for a week we all became good friends. The crew was amazing and you always felt secure and relaxed. The food was great and it was a pleasure to wake up all morning to the smell of freshly baked bread. This was my second sail around Scoresbysund and I would definitely go again, how can you not fall in love with this place. And I would recommend Vera Expeditions to all my friends without a doubt. Thank you for this unforgettable week.
Awesome trip on a luxury sailboat in Scoresby Sound with an excellent crew. The landscape and icebergs are incredibly beautiful and to see polar bears, musk ox and whales this close was a very interesting experience. The food was very good and I really enjoyed the company of everyone. Thank you all for your very enjoyable and fun times.
The adventure trip on Vera around Scoresbysund was an experience of a lifetime – absolutely awesome
Sailing on the Vera in Scoresbysund was a dream come true for me. As a cinematographer, I could not believe the diversity and beauty around every corner in this magical fjord. The accommodation and the crew on Vera are top class, well above anything else I've seen in Greenland. I highly recommend this trip.
Nothing could prepare me for the truly unspoiled wilderness that is Greenland. No roads, no waste floating in the water, no power lines, no Wi-Fi, and no signs of humanity aside from a few hunters and maybe another sailboat, both of which were fleeting as most of the time we were completely alone on the water. On our first morning, we saw two polar bears from maybe 200m and on the following day's narwhale, seals, muskoxen, and a handful of different arctic birds. My favourite times were sailing through ice fields next to icebergs larger than apartment buildings and then taking some short hikes over untouched granite to get a better look at the vibrant colours of the native plants. As my first time on a sailboat, I found that the smaller quarters were no problem for me, I very much enjoyed the meals and more than that the gentle rock of the boat was quite comforting as it lulled me to sleep each night. The crew spoke fluent English and always made me feel in safe hands and at ease.